Services that give engines a long life
Motorenfabrik Hatz will be presenting a range of new services at the 2022 Bauma trade fair that make it easier for machine operators and maintenance staff to extend an engine's life. Here, the focus is on the Hatz Digital Service Portal as an information center.
20 June 2022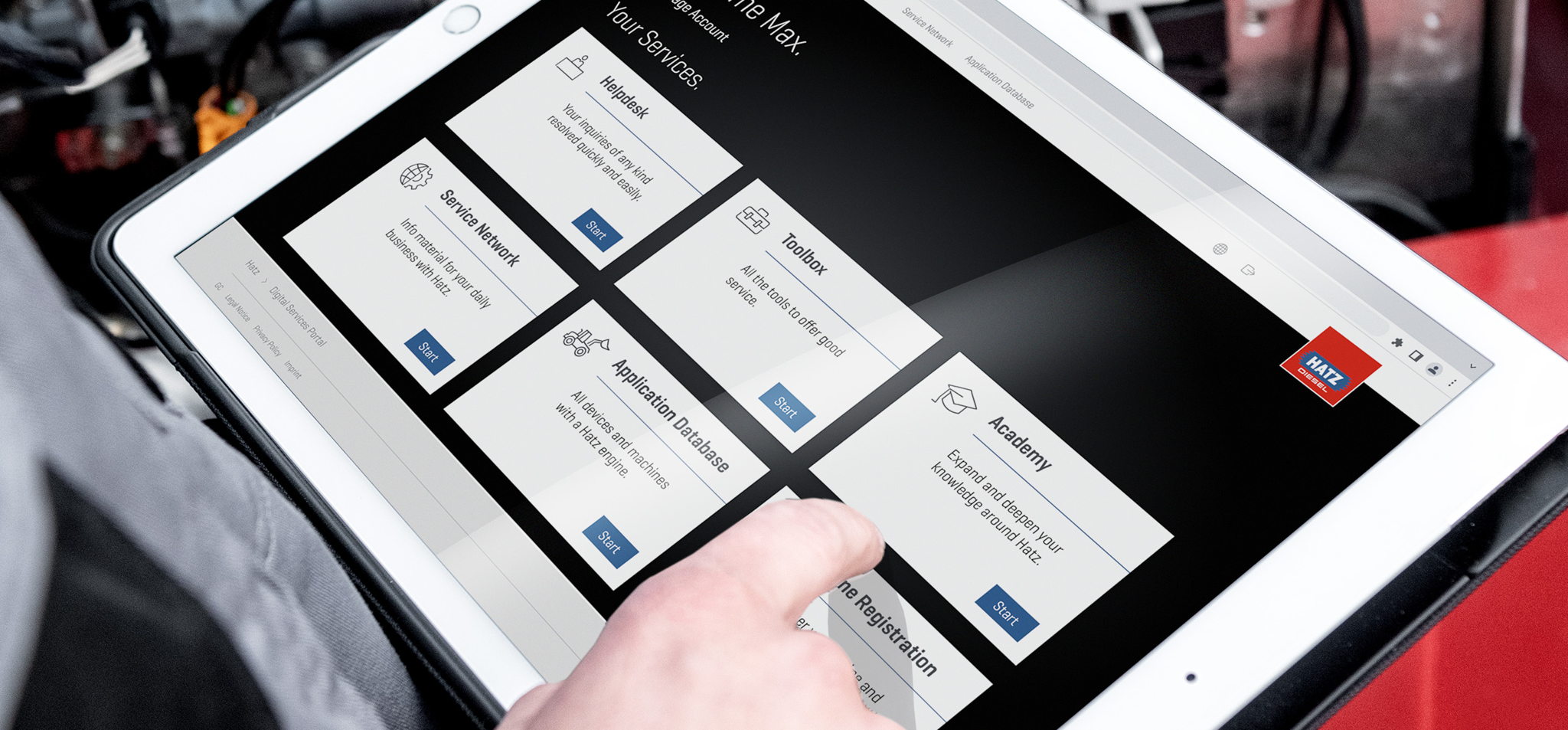 Hatz is digitalizing your engines' maintenance and repair services. With the Digital Service Portal (DSP), the drive specialists from Ruhstorf are showcasing an online platform at the Bauma that provides key information on servicing and the condition of the engine.
Digital Service Portal DSP
What features do you need to take note of during the maintenance of certain machine types? When is my engine next due for maintenance? Where can I get original maintenance parts? You can view this information via the DSP, as well as the Hatz Diagnose Software HDS2 and the Hatz Academy and much more. With the Digital Service Portal, Hatz creates a central information hub, providing machine operators as well as maintenance staff and workshops valuable support throughout the whole of the engine's life. Using digital maintenance services, Hatz engines can be repaired and maintained in a more precise, needs-based way.
Hatz Diagnose Software HDS²
HDS2 makes engine diagnosis as user-friendly as possible. The dongle software package saves money and time – it is easy to plug in and will immediately provide you with functional analyses, fault log readouts, live data analysis of the engine and much more.
Hatz Academy
The Hatz Academy provides installation and maintenance instructions, either as a text document with illustrations or as a video tutorial. Trained Hatz maintenance professionals can thus pass on their knowledge in a way that makes it easy to understand, so that you can check whether you are carrying out the correct actions and services and learn intuitively. ​
Extended warranty
If you want to maximize the warranty period on your Hatz engines, you can do this from the "Bauma" trade fair for up to 5 years. To do this, you need to register the engine in the Hatz Digital Service Portal and maintain it in accordance with the maintenance plan using original parts.
Resource-saving particle filter cleaning
In addition to the Digital Service Portal, Hatz has also worked on fully analog services for engine and machine operators. For the H series engines with diesel particle filters (DPF), the DPF must be cleaned or replaced after 4,000 operating hours. Hatz's EasyClean offers an economic and convenient alternative to purchasing a new DPF. Depending on your needs, cleaning can be really quick or really cost-effective. Engine operators can thus save resources and protect the environment without compromising on DPF quality.
Hatz @ Bauma 2022 
Hall A4, booth 449
Between hall A4/A5, booth 34